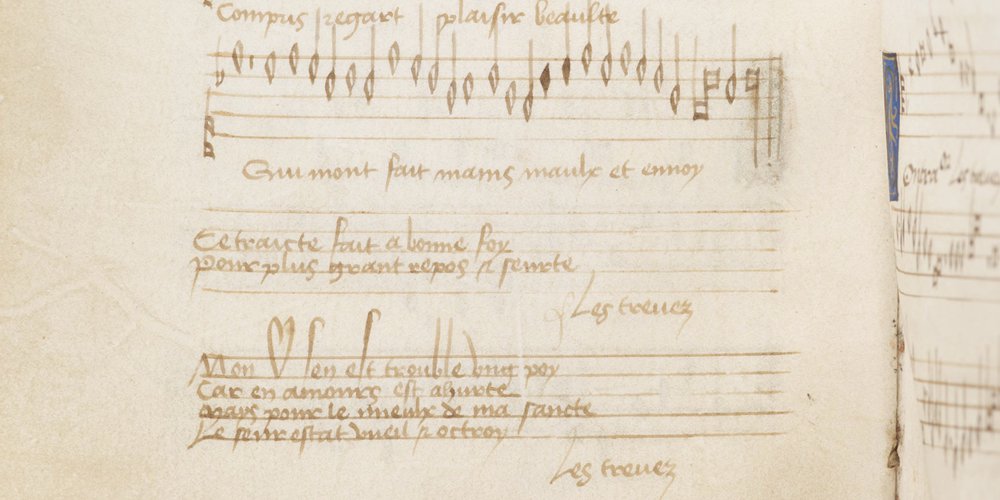 B-AF-ms-1 f. 6v © Alamire Digital Lab
The Leuven Chansonnier continues to conquer the world of early music and will now also set foot in Boston, USA.
On Saturday 13 February, the early music ensemble Blue Heron will be highlighting Franco-Flemish polyphony in its concert programme French Songs II: The Next Generation. Songs from the Leuven Chansonnier by Johannes Ockeghem, Antoine Busnoys, Robert Morton, Barbingant & Anonymous. Artistic director Scott Metcalfe offers a first introduction to the programme in the video below, followed by Johannes Ockeghem's love song Les desloyaulx ont la saison. On the eve of Valentine's Day, this programme explores love in all its beauty – as well as the challenges it brings.
Tickets and more information about the concert can be found on the Blue Heron website.
About the Leuven Chansonnier
In 2014, an unknown music manuscript from the late fifteenth century was sold by a Brussels auctioneer. Behind a plain cover, this small book hides a wealth of polyphonic Franco-Flemish songs. It comprises 49 chansons by important composers such as Johannes Ockeghem, Antoine Busnoys and Firminus Caron, preceded by Walter Frye's motet Ave regina caelorum. The manuscript thus provides a good sample of the most popular music of the time that circulated throughout Europe. However, twelve of these songs were unknown: they have never been found in any other source and are therefore unique to this manuscript.
In order to preserve this exceptional heritage, the King Baudouin Foundation acquired the songbook through the Léon Courtin-Marcelle Bouché Fund and subsequently gave it on loan to the Alamire Foundation. There, the first steps were taken towards the scientific research and artistic exploration of the Leuven Chansonnier. Conferences in New York and Antwerp were followed by the musical premieres of the chansons all over the world, from Basel, Berlin, Frankfurt and Utrecht to far beyond the European borders in Chicago and Tokyo.