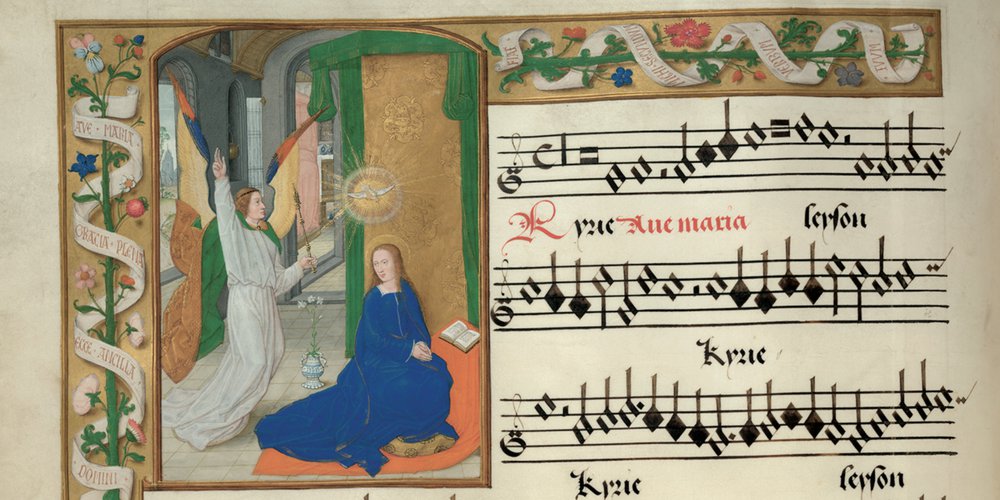 B-MEa-ms-ss f. 49v © Mechelen Stadsarchief
The Franco-Flemish polyphonist Pierre de la Rue (Tournai, c.1450 - Kortrijk, 1518) played a prominent role at the Burgundian-Habsburg court. Despite the richness and quality of his repertoire, however, he has often remained in the shadow of famous contemporaries such as Josquin des Prez in musicological research and performance practice. For the five hundredth anniversary of his death, the Alamire Foundation and the Musicology Research Group at KU Leuven organized an international conference to shed light on the state of affairs in research and sketch out new possibilities.
The lectures focused in particular on the context in which the work of Pierre de la Rue was produced and distributed, how his work has been passed down in manuscripts and prints, the analysis of the compositions and their interpretation based on performance practice. The conference included both overview lectures and a focus on specific case studies. The broad, multidisciplinary approach to a subject that is specific in itself ensured that the programme appealed not only to musicologists, but also musicians, historians, art historians and manuscript experts. Furthermore, this concept resulted in a varied audience ranging from academics to people interested in culture and music and students, especially from KU Leuven and the Hochschule für Musik Franz Liszt Weimar / Friedrich-Schiller-Universität Jena.
The programme was extended to include a tour of the Museum Hof van Busleyden. Incidentally, the choice of venue for the conference was no coincidence: it was inspired by the key role that Margaret of Austria played at court in Mechelen in the creation and distribution of Pierre de la Rue's work. The visit to the Library of Voices allowed the participants to become acquainted with the future-oriented developments of the Alamire Foundation, thus contributing to the further expansion of the organization's network of partners and users.
The valorisation aspect of the conference consisted of a concert, The Disconsolate Woman and the Queen of Heaven: Marian Devotion by La Rue and Friends performed by the Binchois Consort at the Church of St Peter and St Paul. The programme was based on practice-oriented research by the ensemble's artistic leader, Andrew Kirkman (University of Birmingham, UK).
The commemoration of Pierre de la Rue's death was not restricted to Mechelen. The Alamire Foundation also contributed to activities organized in Kortrijk. On 20 April, the Koninklijke Geschied- en Oudheidkundige Kring (Royal Historical and Archaeological Circle) and Kortrijk - Festival of Flanders organized the performance of his Requiem by Cappella Pratensis at the Church of Our Lady. This concert was preceded by a lecture by David Burn on Pierre de la Rue and the music of the Habsburg-Burgundian court (Post-Universitair Centrum KU Leuven Kulak ‒ 17 April). Pierre de la Rue was also in the spotlight in Leuven at the concerts by both Cappella Pratensis and ParkCollegium for DeVespers.